Improve Your Operational Health and Cybersecurity Posture
As industries increasingly adopt Industrial IoT (IIoT) technologies in their Industrial Control Systems (ICS), it's easy to overlook the operational health and cyber risks presented by legacy, serial-connected field devices.
The SerialGuard AnalytICS Platform is a fully-passive operational health monitoring and cyber intrusion detection solution that brings secure visibility to high-risk cyber-physical assets, allowing you to securely achieve your digital transformation objectives. Our solution operates as an independent cyber-physical safety system and ensures serial data integrity by monitoring serial communications at the lowest level of the OT network. The platform serves as the last line of truth in your defense against cyber intrusions and securely enables your transition to Industry 4.0.
Our customers include:
U.S. Department of Defense (DoD), U.S. Department of Energy (DOE) and U.S. Department of Homeland Security (DHS).
Operational Health Monitoring
The SerialGuard AnalytICS Platform monitors legacy ICS communications to enable you to:
✅ Prevent legacy ICS downtime
✅ Detect operational irregularities early
✅ Reduce time to conduct troubleshooting and diagnostics
✅ Reduce capital outlays & avoid equipment overhauls
Legacy ICS Intrusion Detection
The SerialGuard AnalytICS Platform monitors industrial physical processes to enable you to:
✅ Detect unauthorised commands & false feedback attacks 
✅ Detect attacks to avoid asset damage & loss of life
✅ Reduce time to solve cyber-physical incidents
✅ Improve cybersecurity compliance posture
Download the SerialGuard AnalytICS Platform
Value Proposition
Legacy ICS Operational Health Monitoring
Passively monitor and analyze legacy serial device activity in real-time with SerialGuard AnalytICS Platform's high-performance graphical user interface (GUI).
Quickly identify operational irregularities and ensure optimum performance from your legacy assets with easy-to-use baselining and alerts functionalities.
Maintain network efficiency through remote troubleshooting & diagnostics of your legacy devices.
Monitor multiple serial ports from a centralized location at enterprise-scale.
Validate serial communication data to maximize interoperability within your OT network.
Seamlessly integrate data with your organization's enterprise management system and other data analysis tools.
Cyber Intrusion Detection at Level 0-1
Passively tap level 0/1 ICS Communications and monitor your legacy assets at enterprise-scale without introducing an additional attack vector to your critical devices.
Quickly detect interceptions and alterations of serial communications between field devices and controllers through baselining and rule-based alerts.
Securely log ICS protocols such as MODBUS, DNP3, IEC-101, BACnet MS/TP and more to enhance your industrial cybersecurity posture.
Get true visibility into your ICS physical processes and establish a cost-effective last line of defense against cyber-physical attacks.
Stomp out noise with custom rulesets to flag operational anomalies on individual devices or across the network.
Seamlessly integrate alerts and metrics with third-party SIEMs.
The SerialGuard AnalytICS Platform in Action
Detecting Malicious Data and Advanced Attacks
(False Feedback Attacks & Other Malicious Data)
Serial Communications Asset and Configuration Change Management
Troubleshooting and Diagnostics
ICS Serial Network Attack Scenarios
Learn How Our Technology Works
SerialGuardTM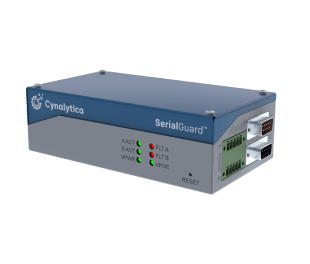 Serial packet sniffer for RS-232, RS-485 and RS-422 interfaces
Securely captures ICS protocols such as MODBUS, DNP3, IEC-101, BACnet and more
Provides full duplex serial communication monitoring
Securely transfers serial data to AnalytICS Engine in encrypted TCP data packages
AnalytICS Engine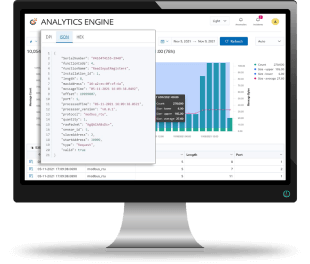 Collects encrypted data on a separate subnetwork for secure examination of serial payloads
Formulates metrics and visualizations of the assembled data into easy-to-read graphics
Enables rule-based alerts for instant anomaly detection
Integrates alerts and metrics with third-party SIEMs to streamline cybersecurity processes
SerialGuard AnalytICS Platform Enterprise Starter Kit
Enjoy a fast track route to securing your legacy ICS
We understand the challenges of aligning OT security and digital transformation projects – and we are here to help you.
Our Starter Kit offers you a fast track option to kick-start securing your legacy Industrial Control Systems while providing you with the technical support that delivers results today!
What you get with the Enterprise Starter Kit
3 SerialGuard Sensors
1-year AnalytICS Engine License for up to 5 SerialGuard Sensors
Implementation Support & Applications Updates
Quotes available for international shipping.
SerialGuard AnalytICS Platform can be deployed across all industry verticals that utilize legacy field devices, including many critical infrastructure sectors listed by the US Department of Homeland Security. Typical industry integrations include:
Electrical power generation, distribution, and transmission facilities
Refineries and other oil-and-gas production facilities
Water infrastructure and gas transmission infrastructure
Maritime Transportation Systems (MTS)
Nuclear reactors, materials, and waste sectors
Railway and mass rapid transit systems
Chemical production plants
Industrial and manufacturing plants