Slide 1
Protect Your Onboard and Onshore Operations
Securely monitor your serial-connected Navigation Systems and Industrial Control Systems (ICS) at scale
Slide 1
Protect Your Onboard and Onshore Operations
Securely monitor your serial-connected Navigation Systems and Industrial Control Systems (ICS) at scale
Establish Cyber-Resilient Operations
Digital transformation has heralded a new era for Maritime Transportation Systems (MTS), but is also expanding the attack surface of insecure serial-connected devices such as NMEA 0183-connected electronics and many other legacy OT network devices. Increased connectivity combined with increasingly sophisticated cyber threat actors means MTS are now facing significant risks to the safety and availability of their critical devices and operations. Rather than a 'rip and replace' approach,  you can now safely and securely monitor communications between your serial-connected devices and detect stealthy malicious cyber intrusions.
Securely Monitor Your Serial-Connected Industrial Control Systems
With the SerialGuard AnalytICS Platform you can easily mitigate cyber risks by simultaneously bringing true visibility and real-time intrusion detection to your NMEA 0183-connected devices and other serial-connected OT devices. Combining a fully passive, real-time serial communications sensor with the power of a high-performance analytical and intrusion detection system, the SerialGuard AnalytICS Platform enables you to securely monitor your high-risk assets and detect anomalies at speed.
Safeguarding Your OT Network and NMEA-Connected Devices
The SerialGuard AnalytICS Platform is a scalable serial network Intrusion Detection System that comprises two high-performance components:
SerialGuard® Sensor: Fully passive and fail-safe serial packet sniffer that sits in-line between serial-connected devices to securely capture real-time serial communications.
AnalytICS Engine: SerialGuard's supporting software that operates as an End Point Protection (EPP), End Point Detection and Response (EDR) and Intrusion Detection System (IDS), and data validation tool.  The software enables you to baseline normal operations and create rule-based alerts to support early detection of anomalous behavior.
Achieve Your Digital Transformation Goals Securely
The SerialGuard AnalytICS Platform acts as an all-in-one operational health monitor and serial network security solution that provides:
Visibility & Monitoring: Directly monitors communications to and from serial-connected devices in real-time to improve situational awareness and help combat stealthy spoofing/false feedback attacks.
Troubleshooting & Diagnostics: Helps quickly pinpoint operational faults to improve response times and ensure operational continuity.
Intrusion Detection: Alerts on anomalies indicative of misconfigurations, unauthorized commands and malicious cyber attacks.
Centralized Data Collection & Analysis: Centralizes serial data collection from multiple ICS devices and contextualizes the data for easy analysis.
Integration with SIEMs: Seamlessly integrates with SIEMs for optimized visibility, enhanced event correlation, and effective SOAR execution.
Reliable Operational Datasets: Builds serial datasets for advanced digital strategies such as Asset Performance Management (APM), Overall Equipment Effectiveness (OEE), and Predictive Maintenance.
Monitor Your Critical Assets and Processes Where It Matters Most
To adopt a successful ICS Defense-in-Depth strategy, you need to accurately monitor your serial-connected cyber-physical systems and marine electronics. With the SerialGuard AnalytICS Platform, you can securely achieve this with real-time monitoring and intrusion detection of your onboard and onshore serial communications.
Onboard Topology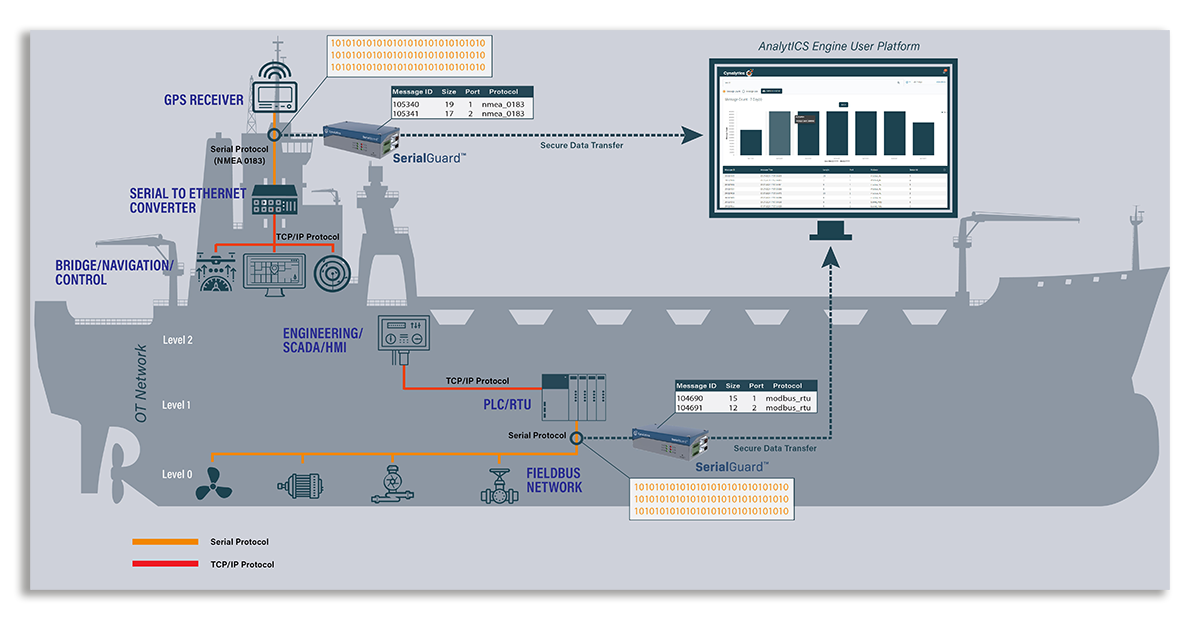 Onshore Topology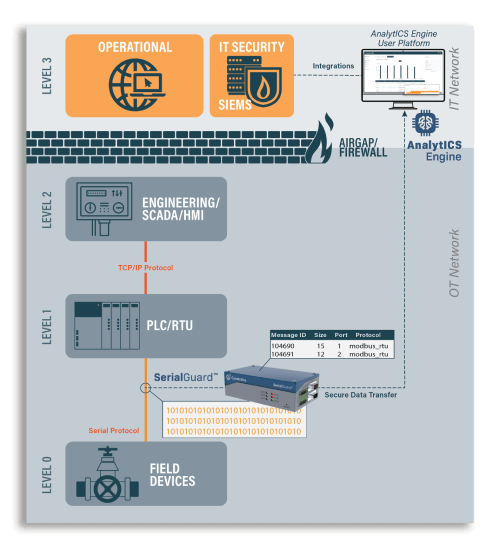 The SerialGuard AnalytICS Platform in Action
Detecting Malicious Data and Advanced Attacks
(False Feedback Attacks & Other Malicious Data)
Serial Communications Asset and Configuration Change Management
Troubleshooting and Diagnostics
ICS Serial Network Attack Scenarios
Learn How Our Technology Works
SerialGuard®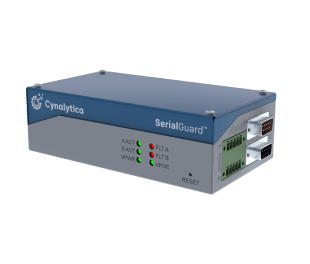 Serial packet sniffer for RS-232, RS-485 and RS-422 interfaces
Securely captures ICS protocols such as NMEA 0183, MODBUS, DNP3, IEC-101, BACnet and more
Provides full duplex serial communication monitoring
Securely transfers serial data to AnalytICS Engine in encrypted TCP data packages
AnalytICS Engine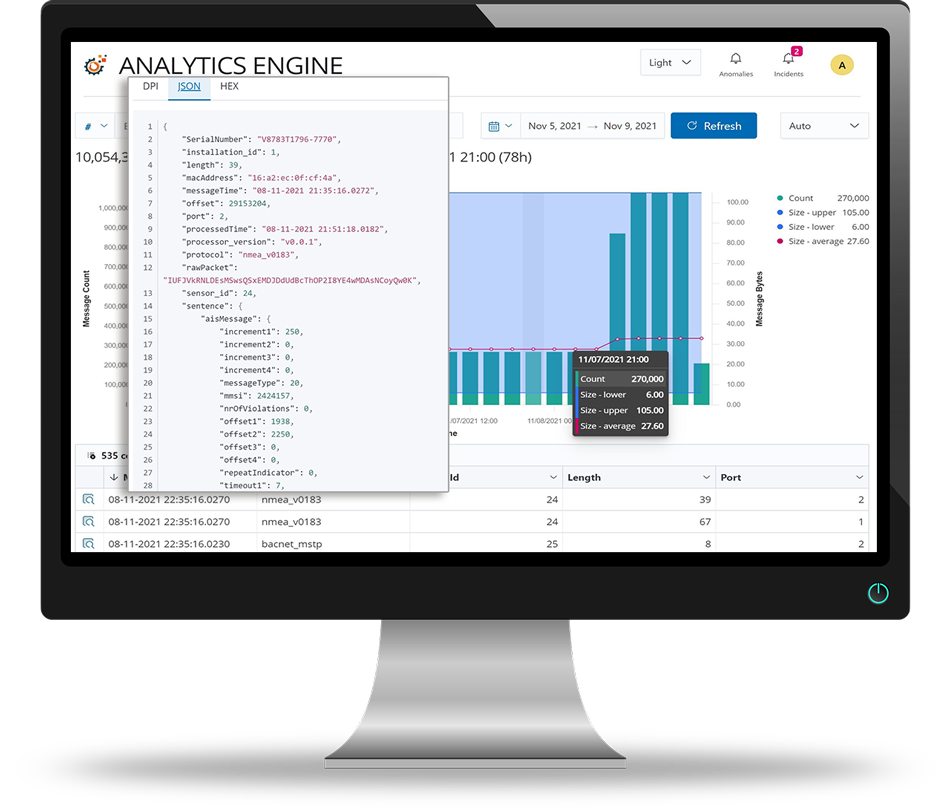 Collects encrypted data on a separate subnetwork for secure examination of serial payloads
Formulates metrics and visualizations of the assembled data into easy-to-read graphics
Enables rule-based alerts for instant anomaly detection
Integrates alerts and metrics with third-party SIEMs to streamline cybersecurity processes
SerialGuard AnalytICS Platform Enterprise Starter Kit
Enjoy a fast track route to securing your legacy ICS
We understand the challenges of aligning OT security and digital transformation projects – and we are here to help you.
Our Starter Kit offers you a fast track option to kick-start securing your legacy Industrial Control Systems while providing you with the technical support that delivers results today!
What you get with the Enterprise Starter Kit
3 SerialGuard Sensors
1-year AnalytICS Engine License for up to 5 SerialGuard Sensors
Implementation Support & Applications Updates
SerialGuard AnalytICS Platform can be deployed across all industry verticals that utilize legacy field devices, including many critical infrastructure sectors listed by the US Department of Homeland Security. Typical industry integrations include:
Electrical power generation, distribution, and transmission facilities
Refineries and other oil-and-gas production facilities
Water infrastructure and gas transmission infrastructure
Maritime Transportation Systems (MTS)
Nuclear reactors, materials, and waste sectors
Railway and mass rapid transit systems
Chemical production plants
Industrial and manufacturing plants